The PCIe X16 video card and an Adel Nibbling Tool (I suspect most brands of nibbler tools would work).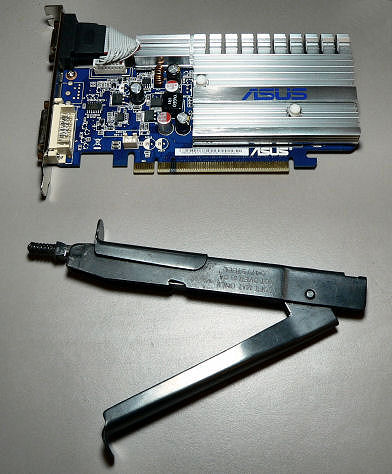 An alternative to modifying the video card is to notch the back of the PCIe X1 slot so that the PCIe X16 card can plug into it. You have to make sure there is clear space behind the slot for the long X16 connector. You can also find examples of this mod by searching the web.
You should be able to adapt these same ideas for use with X2, X4, and X8 slots: Just look up the pinout to find out which pins to remove. But, of course, an X1 card will work in any sized PCIe slot.
My particular reason for converting a PCIe X16 video card into an X1 card is that I needed to drive a 3rd monitor (and maybe a 4th later), and the least expensive solution that would provide good results for me was to add a modded X16 video card into an X1 slot. I also didn't want to mod the motherboard.
The computer already had a PCIe X16 GeForce 8400GS card, so for $32 shipped from NewEgg I bought another card that uses the same GPU, since it fit my needs well (I do software development on that PC, and don't do any 3D or gaming), it would be least likely to have any compatibility issues with the first card, it wouldn't require much power, and finally, if it didn't work, it wouldn't be a major financial loss. The new card is an ASUS EN8400GS Silent.
Step 1. Test the card. -- The first thing I did before starting the mod was to test the card in an X16 slot to make sure it was good.
Step 2. Mark the cut area -- The area to remove is everything after the first 7 pins on the second section of the connector (do a web search for the pinouts to confirm this for yourself, or if you want to do an X2, X4, or X8 mod). I also lined up the card with an X1 slot, just to double check.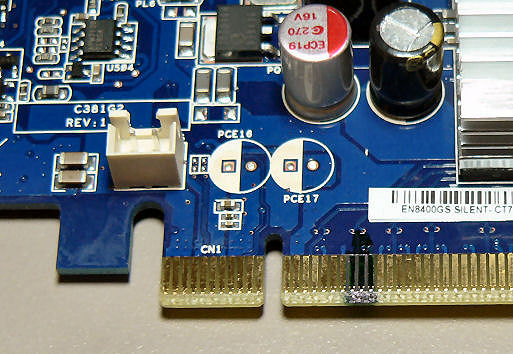 Step 3. Cut -- Here's the first nibble removed. I tested my nibbler tool on a useless old ISA modem card before using it on my brand new video card.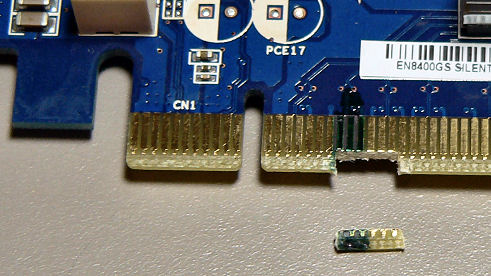 The card with four nibbles removed. The card will now fit in an X1 slot, but bad things could happen if you tried to put it into an X16 slot like this, and the extra pins could get in the way of other parts on the motherboard.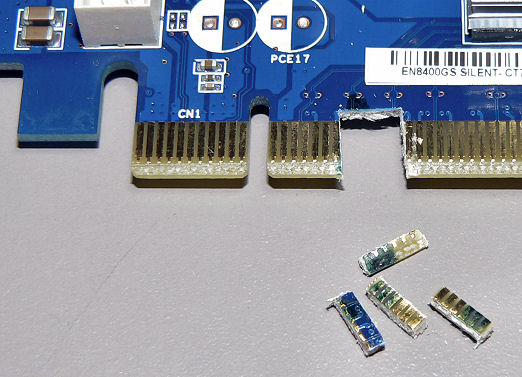 The part where you have to be extra careful is now done. I accidentally cut a tiny bit of the 7th pin (I should have been more careful), but I used an ohm meter to make sure it still had a good ground on both sides (the 7th pin is ground on both sides). Also, don't cut too far up into the card, or you might start cutting important stuff.
After another 30 seconds with the nibbler the card is now a PCIe X1 compatible video card.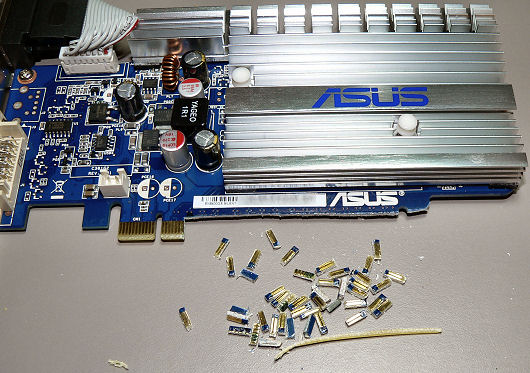 Step 4. Test the modded card -- mine works great (thankfully!).
The other side of the finished card.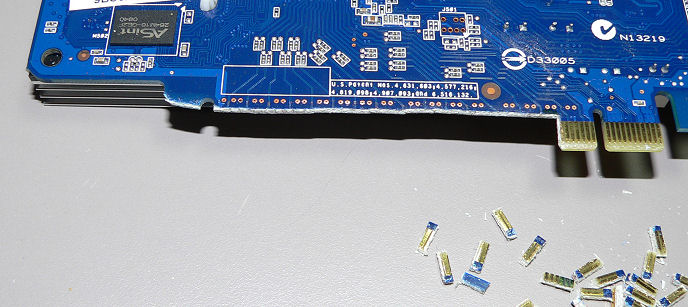 My new X1 modded card works great for me. I connected my two outer 17" LCD monitors to the X1 card, and connected my middle 22" LCD monitor to the original X16 card, and still have a connector available on the X16 card for a 4th monitor.
---
Additional Info added July 23, 2011:
Step 5. If it doesn't work -- If any type of PCIe X1 mod doesn't work right away, with some motherboards and/or video cards you also have to "tell" the motherboard that you have an X1 card installed by adding a jumper between pins A1 and B17, as illustrated by Marc Bevand in his Blog. [My system didn't need this additional step, and many people don't, but I've received confirmation from other people whose systems did need the jumper.]
Another alternative: Instead of modifying either the video card or the motherboard is to use a cheap PCI X1 extender/riser cable [I've seen them under $10 shipped on eBay] and modifying it instead, as illustrated by Marc Bevand in his Blog.
---
Disclaimer (again): This will void the warranty on your video card, and could destroy your video card. I take no responsibility if you mess up anything or injure yourself or others. And I make no guarantees that your card will function even if you correctly perform the mod.